Community Service Award
April 2018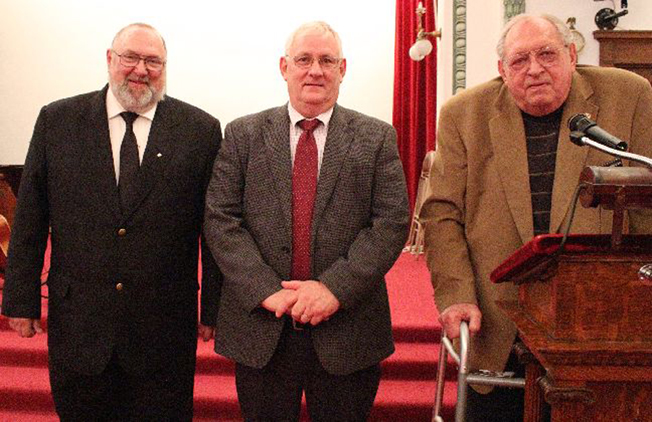 Click to enlarge
Here is a photo of Charles R. Doss, center, recipient of this year's Community Service Award from the Scottish Rite Valley of Columbus Masons. The two other men are Michael Hines, left and William Landrum on the right. They both are officials of the local Scottish Rite group which holds a Ross-Pike County banquet each year when the award is presented.
Charles R. Doss, a Ross County man who has dared to enter disaster areas to provide aid to victims of hurricanes, floods, massive wildfires and mudslides, has been honored by the Scottish Rite, Valley of Columbus, of the Masonic Order.
Doss, who is 61 and runs his own home remodeling business, has been chosen as this year's recipient of the Scottish Rite's Community Service Award, according to William Landrum, an official of the group.
For the past five years, Doss has volunteered with the Southern Baptist Convention's Disaster Relief Team, traveling with relief crews to Louisiana after hurricane Isaac, New York after hurricane Sandy and to Colorado after wildfires and mudslides.
"I believe in serving the Lord by serving other people," he told a group of 60 Ross and Pike County Scottish Rite Masons at a dinner April 20th when the award was announced.
Doss and his wife Rita live on Potts Hill Road near Bainbridge. They attend Chillicothe Baptist Church which is affiliated with the Southern Baptist Convention.
Shoes For The VA
April 2018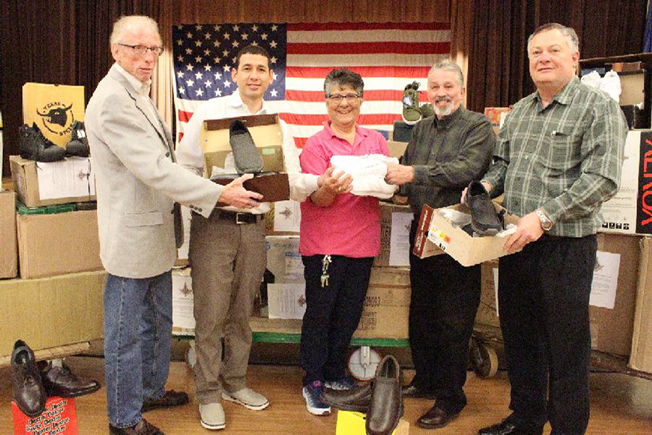 Click to enlarge
CHILLICOTHE – Lodges in the Seventh Masonic District are donating $5,700 worth of shoes — more than 300 pair — for Veterans in need and presented them on April 7th at the Chillicothe campus of the Veterans Administration Hospital.
The Seventh Masonic District includes Ross, Pike, Highland, Scioto and Brown Counties.
William Bennett, Seventh Masonic District Veterans' Administration Hospital Representative led this campaign.
"The veterans being served by the Chillicothe VA Hospital are very much on the minds of the Masonic brethren of the Seventh District, many of whom are veterans themselves," said Bennett.
"This effort got underway after volunteers at the VA told us about some veterans coming in looking for shoes," he said. "One veteran was wearing shoes already, but they were held together with duct tape. That's when members of our district lodges decided to do something to help those who served but may need help now."
VA officials thanked Seventh District officials profusely and told them the shoes will be appreciated by veterans in the 10 counties the Chillicothe installation serves.
The district also sponsors Sunday bingo games at the Chillicothe VA hospital four times a year and holds an annual picnic there in September.
For further information, contact (740)-774-3485.
The photo of the presentation of the more than 300 pairs of shoes (men's, women's, all kinds including shower shoes) is featured above. Left to right in the picture is Bill Bennett, VA Representative for the Seventh Masonic District, Geraldo Navarro and Jamie Russell of the VA, Gary Cox, president of the Ohio Masonic Service Association and Joe Shilling, Masonic District Advisor.